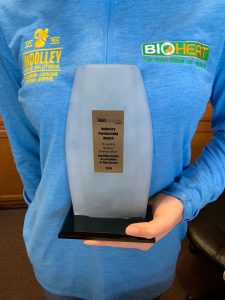 When you hear anything related to heat and therefore petroleum, you think of things like emissions and pollution. But like 30-degree weather in Florida, Bioheat defies all the stereotypes! Once upon a time, petroleum used to be all the rage! But that trend is stuck in the 1900s! It's time for something new! And conveniently that something, Bioheat, was exactly the topic of the Energy Conference.
As it turns out Bioheat is an environmental hero! Not only does it save the Earth, but it also saves amazing customers (like you) money! Why do you ask? Well, you don't need any new technical equipment to but bioheat in, you just switch out your regular heating oil for bioheat and voila! You're an environmental hero!
This is so easy!
Nevertheless, its more expensive competitor, (electric heat) is getting all the buzz! But that "Buzz" is wrongly given. Bioheat will be carbon neutral by 2050! What isn't to love! And trust me I can tell you, Bioheat is the best solution out there! By being lucky enough to be invited to accept an award on behalf of the state of NJ, my eyes were opened wide with the overwhelming potential of bioheat! The providers are all so passionate about this and truly believe in Bioheats future.
All I'm saying is, give Bioheat a chance!
It's:
-Cleaner
-Greener
And You're Getting It Now!
From the desk of,
Sutton Woolley